Today, April 27th, marks the 27th annual International Noise Awareness Day, or INAD. 
The idea to nominate a national day dedicated to raising awareness about the harmful effects of noise on hearing, health and quality of life was conceived by the Center for Hearing and Communication in the mid-1990s. Over the past 27 years, this awareness initiative has spread globally in line with growing public, industrial and individual concerns about the detrimental impacts of noise on human health. You can learn more about these health impacts here: Impact of noise on human health.
Through our network of global distributors across Europe, Africa, North America, South America, Australia and Asia, Sonitus Systems' acoustic monitoring products are used to help identify and address noise pollution. For instance, Dublin City Council used readings over the past decade to legally protect seven areas of the city. 
Dublin Sound Monitoring Network 
Traffic and industrial activities are the most dominant sources of environmental noise pollution across Dublin City. Sound is monitored 24 hours a day using Sonitus Systems' noise monitoring instrumentation, with six key metrics taken every five minutes and shared through dublincityairandnoise.ie. Residents and visitors to the city can check environmental noise levels through live readings in order to manage the effects of noise pollution on their daily lives. As a result of their long term monitoring over 10 years, the City Council have legally protected 7 areas of the city from any future unwanted increases in noise levels.
Santiago, Chile
In Santiago, it is estimated that close to 1.5 million residents are vulnerable to unacceptably high levels of city noise. Sonitus Systems' Chilean distributors, Control Acustico, recently worked with the local authority in Santiago on an open information platform to educate citizens about noise pollution, its sources and likely long term effects. Automated sound level meters have been positioned in key locations around the city, with the data being made available to the public through a simple, accessible, colour-coded interface. People engaging with the data don't require any knowledge of acoustic engineering to benefit from the insights on the public website. 
Limerick, Ireland – Quiet Spaces
Limerick County Council in South West Ireland has an alternative approach. One of their rural areas of natural beauty, Lough Gur, is also extremely quiet. In order to promote and protect the value of this quiet spot, the City and County Council installed a permanent sound level monitor to measure long term sound level trends. The area can then be protected from any future noise impact by understanding ambient levels and detecting any influence from commercial activity in the area.
The measurement results are publicly available at limerick.sonitussystems.com. Local citizens can see the difference between the noise levels in the city and the much lower sound levels in the countryside, giving people easy access to information on where they can find some much needed respite from everyday noise in an area of beauty and tranquility.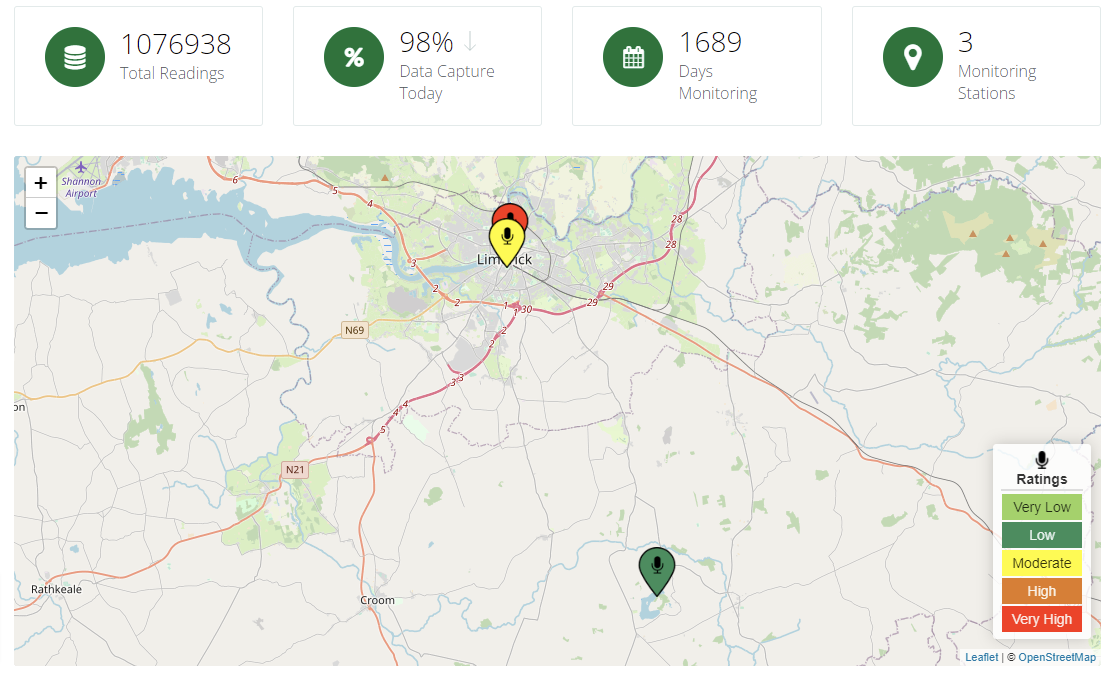 Noise Awareness and what we can do
These projects are excellent examples of how strong environmental leadership in government organizations can help to raise awareness of noise and the associated impacts among wider audiences. By helping people to access insightful information about sound levels they are empowered to make decisions about their own exposure to unwanted noise. This awareness can help to alleviate some of the impacts of noise by giving citizens the utility to avoid noisy areas, where possible, or find a tranquil space to spend some time and recharge.
Ideally this awareness will help us all, as companies and individuals, to assess our own contribution to noise levels in our surrounding areas and act accordingly to help protect living and working environments.
Sonitus Systems offers both the hardware and software for a range of environmental parameters on a continual basis, with real-time information available through our Sonitus Cloud dashboard. Our technology is currently in use across 3,350+ projects globally. For more details on our indoor and outdoor noise and air quality monitoring products and services, please contact the team at Sonitus Systems.